This is a sad song and yes it really happened to me. I think this was probably the first time that I really fell in love and one of those situations where I new there was an expiry date and yet the heart wants what the heart wants. This break up really did a number on me as I lost my confidence and became very cold and almost distant to other relationships that I had after this.
I ended up moving away and going back into the family business. I still did dabble around with my music projects on the weekends and any free time that I had but everything felt different and I did not have the drive that I once had. In the past I had a number of failed projects but I would be up the next day with a new one to try. This time I was much more suspicious of everything and everyone around me.
I think that this dark cloud followed me around right up until the time I met my wife Mary. Mary changed everything. The world that I knew up to this point was going to change once more, but this time for the better and the sheer joy of being together. We have been married for over 20 years now almost as long as I have been in California. She is my California girl.
This song is now released on all streaming platforms. You can stream it directly from this page by clicking on the play button below. This is from Spotify. While you are on Spotify you can follow me and always be notified as soon as any of my new songs become available on this platform. Sign up for the newletter to get early access before they get released. Thanks again for being a fan, your are awesome
2023-04-28 Update: I just received a very nice review from Radio Airplay that I just had to share with you all. It also serves as a place where I can find it myself.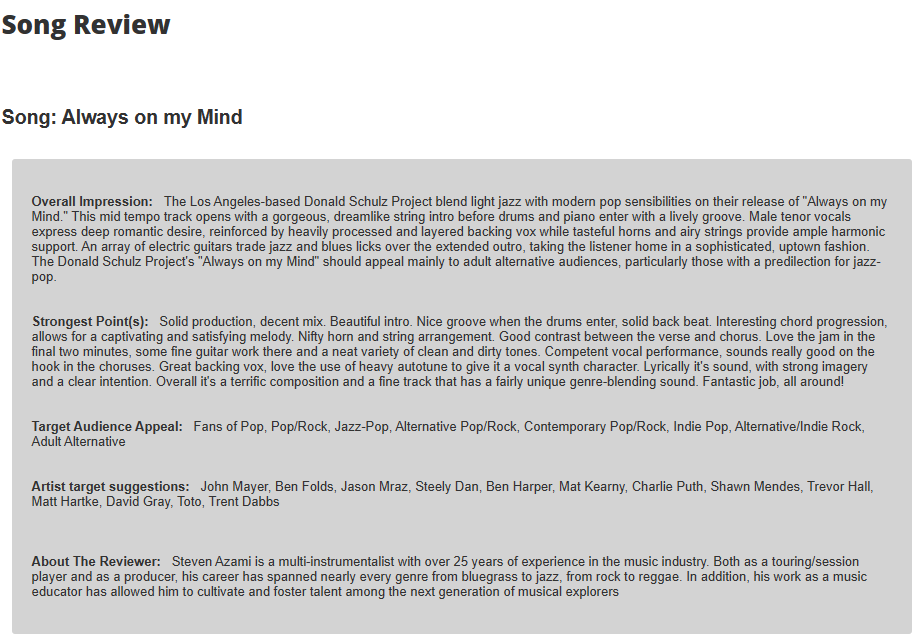 2023-07-05 Update: Because not everyone might be on Spotify, I have a new launcher that pops up to launch the song on several of the most popular platforms out there. This includes Spotify, Apple Music, iTunes, Amazon Music, YouTube, Tidal, and Deezer. Let me know in the comments if there are other streaming platforms that you would like to see included here. Just click on the Stream Now button to reveal the launcher.